Make something with Plastic Bottles
In honor of Earth Day, I'd like to raise a little awareness toward the enormous amounts of plastic bottles used around the world, coupled with some thoughts on recycling and upcycling those bottles into creative products. My family is hooked on bubbly water, and while the number of bottles we go through each week is staggering, each of these bottles gets recycled…and occasionally upcycled into art (our Recycled Sculpture project can be found here).
Sobering Statistics
The Challenge
Make something with plastic bottles! Have you cut the tops off to use them as funnels, added them to a marble run, used them as sand scoopers, or turned them into something surprising? The project should be executed by children, but adults are welcome to facilitate or collaborate if the mood strikes!
To join in
Use plastic bottles, along with any other materials of your choice.
Attach a link to your blog post, a YouTube video, or photo of the experiment along with a description of what you and/or your child/ren did in the comment section below.
There is no deadline for this project.
Inspiration
Instructions for adding an image file
Click on the "Choose File" button (below the "Submit" button)
Choose a JPEG file from your computer
Type in a description of your experiment into the comment text box
Click the "Submit Comment" button
Grab the Creative Challenge button and add it to your site, or copy this text into your HTML.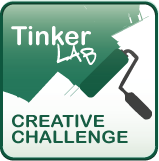 For more Creative Challenges, click here.
How are you celebrating Earth Day?